What amazing Snowy Creations last week - thanks to each of you who entered - pop over to TTT to see who this week's winners are....
**************************
Challenge - Gifts
Your project can be something you've made to give as a gift
or use an image that includes a gift!
**************************
We have 3 awesome sponsors this week!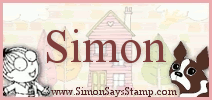 1 prize of 5 digi stamps of your choice
**************************
We also have an amazing tutorial this week from our wonderful
Moriah
,
**************************
For my 'gift' project I followed Moriah's fab tutorial....
I've made a few of these fab little Paper Cones and filled them with chocolate coins as little gifts for my Nieces and Nephews
Whilst we're on things that can be hung on the tree,
Just thought you may like to see my tree that I decorated this weekend....
The Santa that you can see is a product of one of my first crafty experiences! I made him about 22 years ago (doesn't he look good for his age!) after remembering a 'Dusty-Bin' I had made in school quite a few years earlier, with a large coffee tub and fur fabric.
This Santa comes out every year and is filled with small gifts for my 3 children, not labelled but wrapped in particular paper for each of them! These gifts are then opened randomly from Christmas Eve morning until they've all gone - usually about a week after Christmas - I love anything that prolongs the festivities!
The best thing is the 3 of them are already looking in him to see if the pressies are there - and they are 20 and 23yrs old!