............. Anything Christmas!
Welcome to the first challenge of 2012
This Challenge's Fabulous Sponsors are..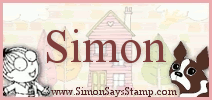 Mini Christmas Ribbon Kit!
I'm sure you'll
agree we have some a
mazing prizes to kick off the year!
My A for Anything Christmas is.............
I 'stretched' the image to make it more circular and used it as the front of an Easel Card.
I've coloured it with Promarkers and covered the outer 'frame' with Glitter Glue to give it a bit of sparkle!
The sentiment was done on the PC.
A couple of Challenges I'd like to enter my card into..........
Sentimental Sundays - Snow, Blue and/or

Glitter

(1,2 or 3 of above)
Cupcake Inspirations - I was inspired by the gorgeous bright green