What an amazing Sketch our wonderful Samantha did for us last week - again HUGE thanks to each and everyone of you that took the time to play along with us - have you checked out who this weeks winners are yet?
This week we have a awesome Tutorial from our fantastic Janette - want to know how to make these.....
Pop over to Top Tip Tuesday now to find out!
**************************************
We also have a big announcement this week...
We'd like to
someone to our Team!
If you've been visiting us recently you would have seen the gorgeous creations that our most recent Guest Designer has delighted us all with!
We decided she was too good to loose - so we asked her to join Top Tip Tuesday permanently - and she said yes!
We are so happy you are now going to be playing with us every week :)
A cyber bouquet for you Deneen.......
P
lease pop over to Deneen's blog to see her amazing work and to welcome her into the Top Tip Tuesday family.
**************************************
Our Sponsors This Week Are.........
Robyn's Fetish!
Robyn's Fetish Digital Stamps And More is proud to sponsor this challenge, and they are offering our lucky winner 4 stamps of their choice!
and
Simon Says Stamp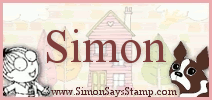 Simon Says Stamp
is offering a $20 gift voucher to spend in their store!!
And this week we want to see you using
and as an Optional Extra we'd also like to see some Handmade Flowers.
They don't have to be the same type as Janette shows in her tutorial - but any type of flower you have created yourself.
This week we are also offering a
Guest Designer Spot
to someone who uses their own flowers on their creation - just add GD after your name to be considered for this spot.
**************************************
My flower was made using something I found in the Craft Show in Cardiff last week - Wire Mesh Ribbon - it's a tubular ribbon 'knitted' with very fine wire. You can pull it and stretch it and do all-sorts of wonderful things with it - it makes stunning jewellery too! I will defiantly be doing a lot with this in the future!
Finished off with some extra 'Bling' in the form of crystal gems in opposing corners.
Some Challenges I'd like to enter my card into.....